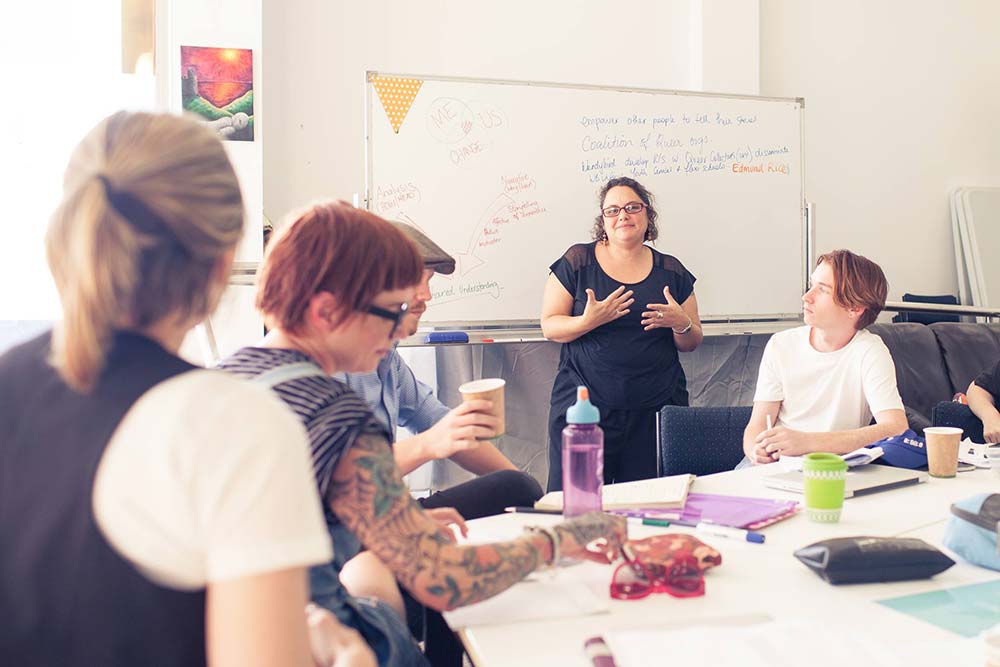 Synopsis
This half-day (4-hour) workshop is suitable for onboarding and workplace inclusion purposes. Unlike our other workshops, this general introduction does not specifically address humanitarian and development topics.
Designed For
Onboarding, workplace inclusion or staff in non-program roles.
Workshop Details + FAQs
Curriculum
Part 1) Introduction to SOGIESC and LGBTIQ+ terminology and concepts
We commonly hear concerns that people will say the wrong thing or do the wrong thing. Faced with navigating SOGIESC and LGBTIQ+ and sexual/gender minorities, heteronormativity, cisnormativity, binarism and more, it can seem like a minefield of language and concepts. We've been here many times before, and we'll get you safely through. We discuss the role of allies and more, all within an inclusive space where you can safely ask questions and build confidence.
Part 2) Myths, Assumptions, Realities, Challenges and Respecting Difference
We are increasingly familiar with the idea of using a gender lens to challenge myths and uncover hidden assumptions about patriarchal society. We add a SOGIESC lens that helps see some of the ways that heteronormative, cisnormative and binary assumptions are build into our worldviews, systems, and habits. With a focus on workplace inclusion we get real about what it means to be LGBTIQ+, we address (respectful) questions that participants have, and work through scenarios that highlight what it means to respect difference and help create a workplace in which LGBTIQ+ people feel welcome and able to bring their full selves.
Part 3) Policy, Reporting and Legislation
We take participants through relevant policy within your organisation, including any specific policies on LGBTIQ+ inclusion. Where your organisation draws on additional resources, for example, faith based organisations, we can work with you to include relevant materials. [If your policies do not specifically address LGBTIQ+ inclusion then feel free to discuss options for supporting participatory policy development within your organisation.] We also examine state and federal legislative obligations. Participants will learn about mechanisms within your organisation for reporting issues, as well as external options. We wrap this within a broader human rights approach to LGBTIQ+ inclusion.
Part 4) Resources, Case Studies and Quiz
We finish by highlighting resources that participants can use to continue learning. In small groups we walk through a series of case studies and finish with an informal quiz. Alternatively organisations can opt for staff to undertake a short online quiz after the workshop, that generates a completion record and certificate.
Learning Outcomes
• Confidence using terminology and concepts and navigating LGBTIQ+ diversity.
• Able to think critically about myths and assumptions that impact LGBTIQ+ people, and have a greater awareness of LGBTIQ+ people's lives and challenges.
• Understanding of how they can contribute to an LGBTIQ+ inclusive workplace and positive external engagement with LGBTIQ+ people while doing agency business.
• Awareness of internal policy requirements and state/federal legislative obligations.
• Awareness of how to report issues or seek further guidance.
How does this workshop differ from other Edge Effect workshops?
This course does not specifically address development and humanitarian applications and is suitable for onboarding and general workplace inclusion purposes.
Why do this workshop?
Whether you know it or now, some 5-10% of your staff are likely to be LGBTIQ+. Creating an inclusive and respectful environment will help you recruit and retain quality staff, improve staff wellbeing and deliver more effective outcomes. Oh yes, and also ensure that your staff are aware of legislative obligations and rights of LGBTIQ+ people. All of which assists protection of your organisational reputation.
Why use Edge Effect?
Edge Effect courses are designed and delivered by people with extensive experience in the international humanitarian and development sectors and with LGBTIQ+ inclusion. While this course does not address humanitarian and development issues, we are very familiar with the ways humanitarian and development organisations operate.
Location
This course may be delivered at your office or in a dedicated workshop space.
I have another question ...
Workshop Costs
Not available for individual booking. To arrange a workshop for your organisation contact Edge Effect for pricing and options.